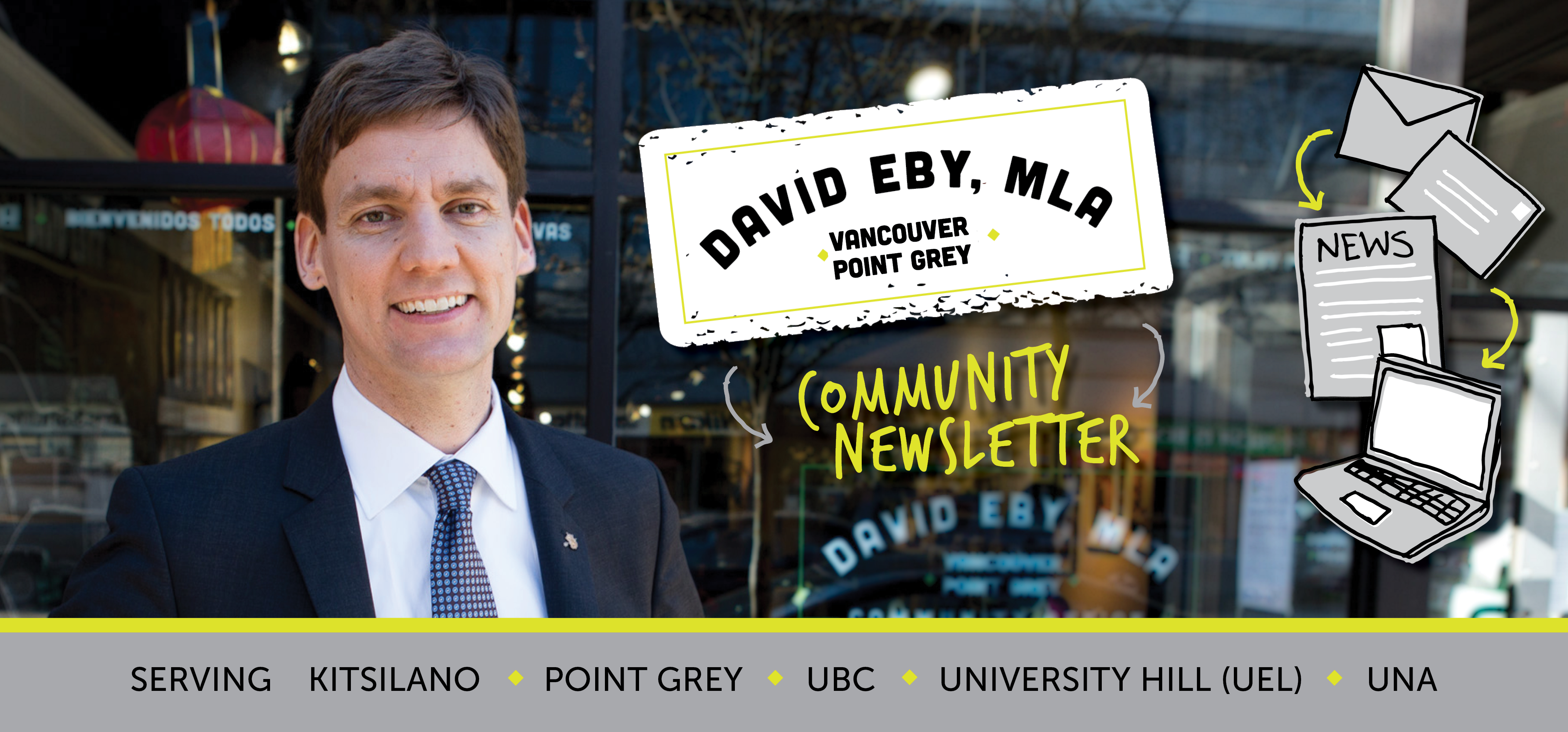 October 2017
It's Fall and the Legislature is Back in Session

Dear Neighbours:
Thank you for your patience in waiting for this newsletter. As British Columbia's new Attorney General, I've been "drinking from the firehose" of information being delivered to me concerning my new job. It's a sharp learning curve.
I'm very keen to share with you what your new government has been doing to make life better for British Columbians generally, and for people in our community specifically.
Education
This month, I joined Premier John Horgan and our Education Minister Rob Fleming for an exciting announcement that Kitsilano will be home to a new school at the Bayview Elementary site. Funding has been allocated for the replacement of the well-loved, but challenged Bayview building. Long overdue issues of maintenance, asbestos and a desperate need for seismic upgrades have been addressed all at once by this funding announcement, which is great news for Kitsilano families.
In other education news, British Columbia is currently hiring teachers in a big way, as our government moves to address the desperate issues of class size and composition that so many of you have written to me about over the years. Now, instead of talking about closing schools, your government is talking about hiring teachers. This is great news for BC's kids, especially those who will thrive and succeed with more teaching attention.
Some of the most vulnerable kids in BC, those in government care got good news from my colleague Melanie Mark that they can attend university or college in BC tuition free, giving them the chance at success that they deserve. Those struggling with student loans got the welcome news that government has reduced the interest they have to pay.
Money Laundering
In my role as Attorney General, I have taken action on allegations of money laundering in BC casinos by appointing Peter German, a former RCMP deputy inspector, and author of Canada's leading legal textbook on anti-money laundering law, to conduct an investigation into the matter and make recommendations to me.
Housing
I sit on the new government's Housing Cabinet Committee, where I am supporting my colleagues in their work on several initiatives related to increasing affordable housing supply, but also, and just as importantly, addressing the toxic speculation, money laundering and tax evasion which we know is taking place in some areas in the province, especially in the Lower Mainland. Stay tuned for important announcements on this front.
For Vancouver, addressing immediate supply issues has meant my colleague Selina Robinson has rolled out funding for 2,000 modular housing units for those living on the streets right now in BC. This will result in hundreds of units of modular housing for Vancouver, which we hope the city will be able to deploy to house people living in a near permanent tent city on an industrial site in the Hastings area.
People living in similar tent cities in Surrey and Maple Ridge will also hopefully be benefitting from this initiative which will deploy housing units across the province for emergency response to an out-of-control homelessness problem.
Selina has also introduced legislation to fix the "fixed term lease loophole" being abused by some landlords to avoid provincial rent control rules, and increased funding to the Residential Tenancy Branch to reduce backlogs and improve services for tenants and landlords alike.
Campaign Financing Reform &  Election Referendum
In my role as Attorney General, I introduced bills in the house that, if passed, will ban big money in politics – ending donations from corporations and unions and strictly limiting donations from individuals to a maximum of $1,200, the lowest limit in Canada with the exception of Quebec's $100 limit.
As Minister responsible, I also introduced legislation to guide BC's referendum on electoral reform (proportional representation), and a consultation process will be rolling out on that in the next few weeks. Finally, I introduced a bill that restricts lobbying by former Cabinet Ministers and Board members of public organizations, prohibiting them from lobbying for a period of two years.
Cannabis
My colleague Mike Farnworth is currently undertaking a public consultation on BC's response to federal cannabis legalization on July 1, 2017, and you can participate at this website: https://engage.gov.bc.ca/govtogetherbc/consultation/bc-cannabis-regulation/ .
Human Rights Commission
My Ministry is also engaging in a public consultation about re-establishing BC's Human Rights Commission to advocate for and protect a diverse and tolerant community in our province. If you're interested in participating in this consultation, you can learn more at: http://engage.gov.bc.ca/govtogetherbc/consultation/bc-human-rights/
Environment, Jobs and the Economy
Our new budget has increased BC's carbon tax, committing the revenue to investing in carbon reducing technologies and initiatives like transit. We've cut taxes for small businesses, and reduced MSP premiums by 50%. We've sent Site C to the Utilities Commission for a review to ensure that the project doesn't proceed if it's not in the interests of British Columbians.
Just weeks ago, a distinguished and nationally recognized lawyer hired by my office finished our government's legal submissions in the Federal Court of Appeal arguing that the Kinder Morgan pipeline expansion is not in BC's interests given the risk of a catastrophic spill for our community, for Vancouver, and for the coastal economy in BC generally. We expect a decision in that case in the coming months.
My colleague George Heyman, this month introduced new legislative reforms that shift responsibility for oil and chemical spills from pipelines or rail from exclusively resting on the shipper (the pipeline company, trucking company or railway) to include the originating oil or chemical company. These reforms will ensure that influential and wealthy large companies shipping toxic substances play an active role in ensuring that products moved through BC are shipped safely and appropriately.
ICBC
As Minister responsible for ICBC, I inherited a crown corporation with a half a billion dollar annual deficit – something that the previous government failed to announce before the last election. I'm currently working hard with a team of thoughtful people to reform car insurance policy and law in BC to address this crisis at our public insurer.
ICBC can deliver affordable insurance to British Columbians; it has in the past, and it will again. To that end, I'm currently having difficult but important conversations with groups that benefit from ICBC about the need to reduce costs. This includes autobody repair shops, lawyers, and others. I've also instituted a business audit that will be reporting back early next year with potential reforms. I'm also working with my colleagues Mike Farnworth, the Minister of Public Safety, and Claire Trevena, the Minister of Transportation, to make our roads safer for everyone. I look forward to reporting back to you about this challenging work as it moves forward.
Fiscal Responsibility
On the note of fiscal prudence, our government has delivered a balanced budget while completing all of these initiatives, including considerable room for "fiscal prudence" in the event of changing economic circumstances.
At Home in the Constituency 
Locally, we've had a complete change of staff at my constituency office on Broadway. Gala, Lucinda and Anna have all accepted jobs with the new government in Victoria, with the Ministry of Attorney General, Health, and Mental Health, respectively.
Joining us at the Vancouver office full time in the last month is Dulcy, and we hope to announce final hiring of a second staff member in a few weeks. Dulcy has been joined by Nadja, Sam, and Nick who have been filling in critical roles during this transition period. Thanks to all of them for their hard work.
Despite my provincial ministerial duties, ensuring that I remain available to our community remains my priority. I'm always glad to meet with people from our constituency, so please reach out to me and my staff if you have questions, concerns, or if you'd like to know more about what we're doing.  We have been in government for just one hundred days. There is much left to do. If you have an issue you think our new government should be addressing, please let me know.
Yours truly,
David Eby
MLA, Vancouver Point Grey
---
From the Archives:
Winter 2016: http://eepurl.com/ctiaZX
Fall 2016 : http://eepurl.com/cdAYGn
Summer 2016: http://eepurl.com/bW1f4n
Spring 2016: http://eepurl.com/bQ6zQb
Winter 2015: http://eepurl.com/bEQMhb
Fall 2015: http://ow.ly/S3oh2
Summer 2015: http://eepurl.com/bh9lJb
Spring 2015: http://eepurl.com/bbwAoP
Winter 2014: http://eepurl.com/89Egn
Fall 2014: http://ow.ly/BoGtC
Summer 2014: http://eepurl.com/WkDDX
Spring 2014: http://eepurl.com/RMY6T
Winter 2013: http://eepurl.com/J32En