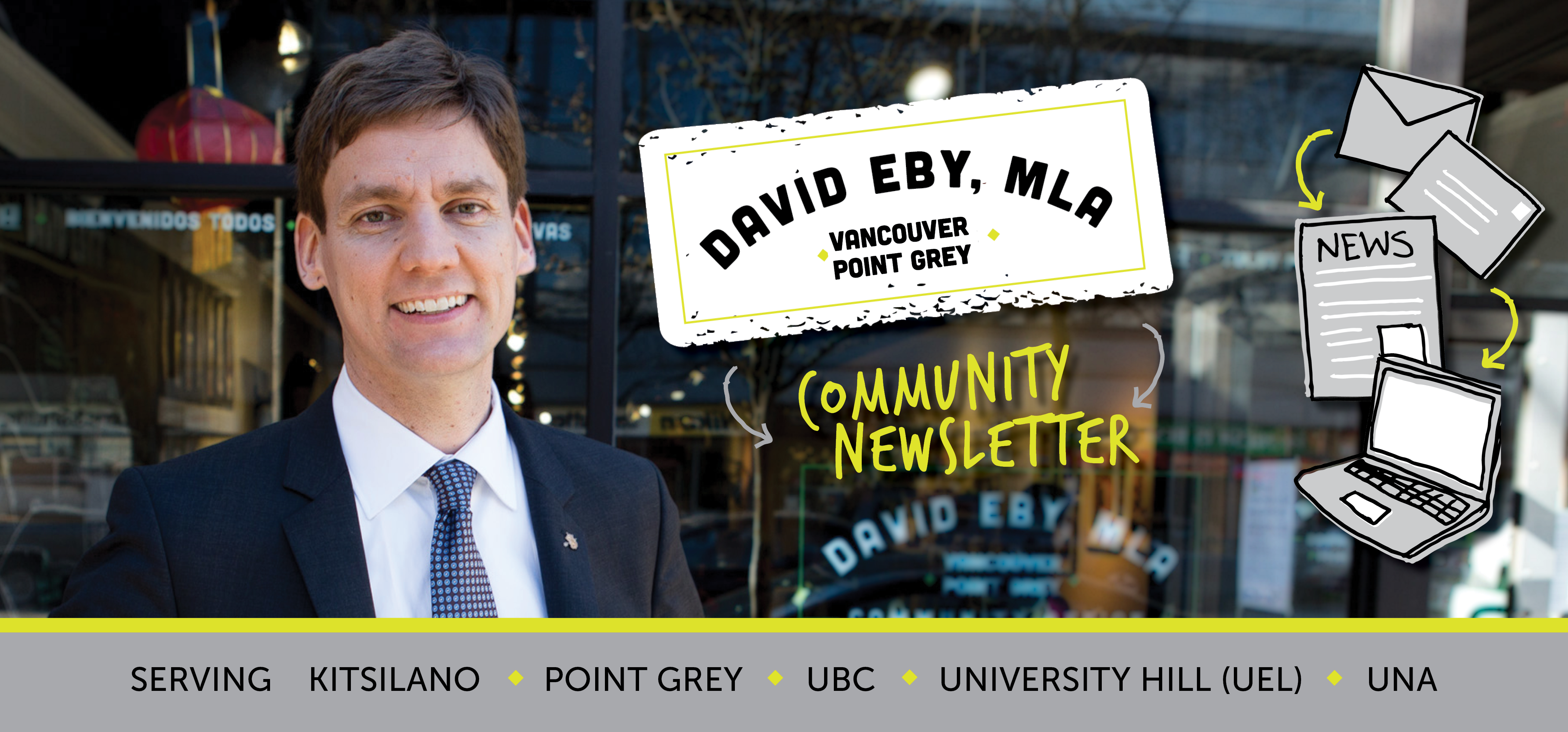 Click here to view the Winter 2016 newsletter: http://eepurl.com/ctiaZX
Winter 2016 message from David:
Welcome to snowy December! Get your skis out!
Around the office we're busy preparing for our Holiday Party this Saturday at noon. I hope you can make it! We'll have festive treats, hot chocolate, a craft-making station and even carolers. Next door, at G&F Financial, they'll be hosting photos with Santa at the same time. Come by and say hi to the jolly old elf himself.
This fall I've had the chance to visit many student groups on campus at UBC. I've met with members of UBC's fraternities, spoken about the media and politics to the UBC Journalism students and had some great discussions with the Political Science Student Association, Alma Mater Society, Allard Law Students and even the new President of UBC, Santa Ono. It has been a pleasure meeting so many people who are enthusiastic community builders at UBC.
In addition to speaking at housing forums hosted by my colleagues Jodie Wickens in Coquitlam, Spencer Chandra-Herbert in the West End and Rob Fleming in Victoria, our office hosted a Rental Housing Forum where we heard devastating stories from more than 250 local renters, alongside advocates, journalists, activists, and researchers. Also last month, I joined our Health spokesperson Judy Darcy to support a working group in Delta that is pushing our provincial government to fund a transition house for women fleeing domestic violence in that community. Currently, women and children are regularly turned away from an overfull transition house in Richmond.
In public education, while the province is trumpeting the seismic upgrades of some select schools we're still in the dark on timelines for upgrades to Bayview Elementary. I'm sure I'm not alone in hoping that the Supreme Court of Canada decision this month will result in improved school experiences for students in our community, especially those who need extra support to succeed.
At home, this is Ezra's third Christmas, and the first one he really seems to be understanding. We're having a great time going to community holiday events like the lighting of Aberthau Mansion last week. Congratulations to the West Point Grey Community Centre for hosting a record crowd!
As always, if you live in the community and want to meet with me, my door is open. Please don't hesitate to email or call our office to set an appointment.
Yours truly,
David Eby, MLA for Vancouver-Point Grey
BC NDP Spokesperson for Housing, Translink, Liquor Policy and Gaming Policy
david.eby.mla@leg.bc.ca
---
From the Archives:
Winter 2016: http://eepurl.com/ctiaZX
Fall 2016 : http://eepurl.com/cdAYGn
Summer 2016: http://eepurl.com/bW1f4n
Spring 2016: http://eepurl.com/bQ6zQb
Winter 2015: http://eepurl.com/bEQMhb
Fall 2015: http://ow.ly/S3oh2
Summer 2015: http://eepurl.com/bh9lJb
Spring 2015: http://eepurl.com/bbwAoP
Winter 2014: http://eepurl.com/89Egn
Fall 2014: http://ow.ly/BoGtC
Summer 2014: http://eepurl.com/WkDDX
Spring 2014: http://eepurl.com/RMY6T
Winter 2013: http://eepurl.com/J32En