The residents of Vancouver-Point Grey are what make it a great place to live. David and his office use this space to recognize some of those people and the amazing contributions they've made to our community.
VPG Portrait:
October 2017: Mital Gorman
I moved to Vancouver 7 years ago with my husband and have been living in Kits for 5 years. We moved here when we started our family and love Kitsilano and all the activities it has to offer for families, especially young children.
I'm the event organizer for the very first Diwali in Kits, which took place last year. Due to its popularity we have organized a bigger and better event this year.
Q. What was the inspiration or impetus behind creating the Diwali in Kits Event?
A.  Having no family here in Vancouver meant my Diwalis were on the quieter side. I was conscious that I wanted my kids to celebrate it with the same gusto I remember. Last year I decided to organize a gathering with all my friends and it naturally grew to become the Diwali in Kits event. The Bollywood Burn dance class I attended at Kits Community Centre brought a new group of friends together and they all jumped in to help me.
Q. What does Diwali mean for you personally?
A.  Its a time for family and friends to come together, and I have so many happy memories of spending Diwali with my huge family in England that I couldn't do without the excitement of exchanging gifts, doing rangoli patterns, lighting diyas and dancing. I wanted the whole spectacle here with me in our lovely neighbourhood with our friends.
Q. What's one dream you have for the neighbourhood?
A. Affordable housing. More and more of our friends are leaving the area because it is unrealistic to get on the housing ladder, even for working professionals. I'm not sure how long we will last either, but we love it and want to be able to stay here.
Q. What's your favourite thing about Vancouver-Point Grey?
A. The beaches and parks – and the mountain views are priceless.
Q. What's your secret skill?
A. Reflexology and foot massages! I guess now the cat is out of the bag…
Winter 2016:

Florence Luo (Wesbrook Community Centre)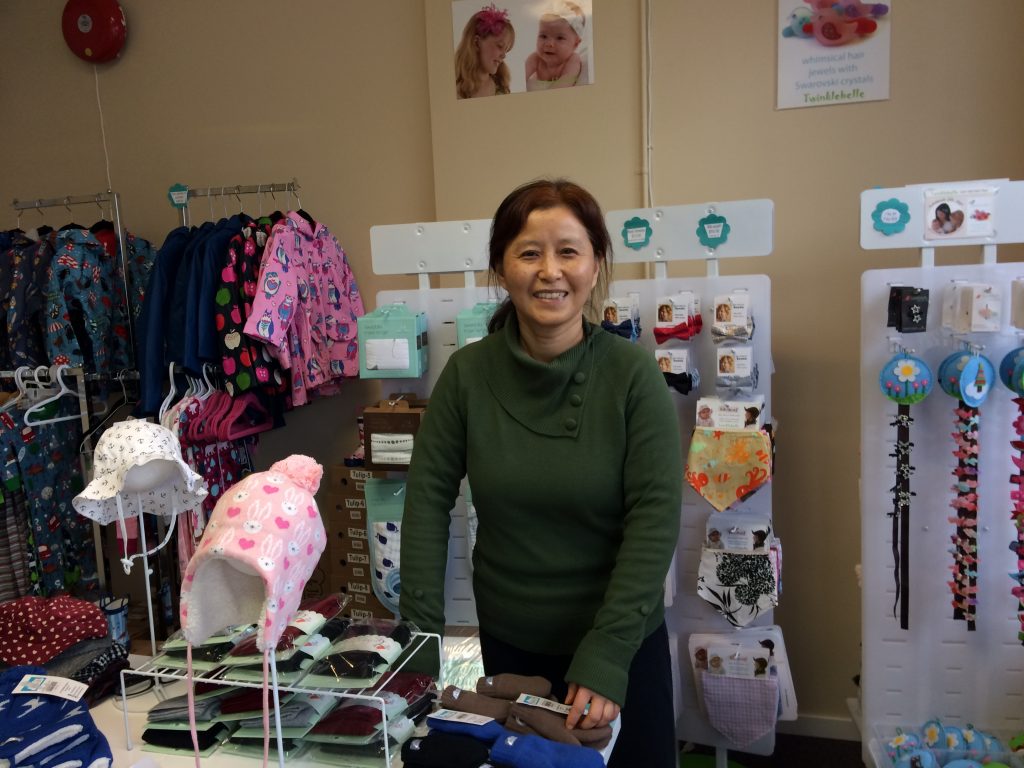 We had a quick chat with Florence Luo, Chair of the Multicultural Committee at the UNA, to learn more about what's happening in the neighbourhood.

Q. What's the best thing about working with the community on campus?
A. Meeting people including other volunteers. Many become my friends whom I can count on for opinions, information and support.
Q. What's something unique about the UNA multicultural committee?
A. Its' made up of people of diverse backgrounds so you get to hear different view points, sometimes quite opposing ones. We are all dedicated volunteers, genuine good people, we respect each other, therefore we are able to function well as a team. I think our strength also lies on our differences.

Q. What's your favourite thing or place in Vancouver-Point Grey?
A. I love the neighborhoods here and the beaches. I am a loyal customer of many local businesses. Many are one of a kind, welcoming and helpful. Dunbar Lumber and Home Hardware are my go-to places for projects. My daughters and I sometimes indulge ourselves in places like Urban Yarn, Tenth and Proper, Kaboodles and some food places.

Q. What are some exciting programs and initiatives that we should watch for next?
A. Feb 4 2017 is our 10th anniversary of the Lunar New Year Celebration. We are dedicating this event to Jim Taylor who inspired us to be open-minded and inclusive to all. We have lined up some great entertainments including the popular lion dance and Korean drumming, it will be the most attended and best ever with lots of yummy treats.
Q. What's your secret skill?
A. I just opened a children's store – I surprised myself! I always loved knitting and sewing since I was very young as I loved fashion but there were not much available in rural China back then. However I was trained as a mechatronics engineer, worked in the semi-conductor industry and taught engineering at UBC. The adjustable hats that I made for my kids then for some children's boutique stores are getting rave feedback and huge demand. So now I am making more outdoor clothing to encourage outside play for kids. My new brand and store is called Jan & Jul – rain or shine clothing, it just opened its doors in Marpole 🙂

Want to learn more about the UNA Committees?  http://www.myuna.ca/board-of-directors/standing-committees/
Fall 2016: Society Promoting Environmental Conservation (SPEC)
We had a quick chat with Oliver Lane, Exec Director of SPEC on the role of this great organization in the community.
Q. What's your favourite vegetable?
A. It changes. Right now I have the following top three: Arugula, Sweet potato and Leek (my partner makes such a delicious leek quiche!). 
Q. What's the best thing about working with SPEC?
A. The people. It is a pleasure to work with staff and volunteers that bring such a diversity of knowledge, interests and culture and that share values and a passion for sustainability. SPEC is like a container for great people and great ideas to flourish. And we do our best to support that.  
Q. SPEC has been housed in many places in Vancouver. Can you tell us about your new location in Kitsilano?
A. In November 2014 we moved into our new office in the Kits Neighbourhood House building on 7th and Vine, in the heart of Kitsilano. It is such a wonderful location and Kits House is such a great partner. The Westside Community Food Market is an example of the type of partnership we have. We've also jointly hosted on-site workshops through the Urban Farmer Field School, and our new SPEC Elders Circle is being kindly supported by Kits House.
Q. What's it like collaborating with UBC students?
A. SPEC gets involved with UBC students in a variety of ways. I want to say that we also connect with SFU students but I guess because of our location on the westside and our connections we end up having a more frequent link to UBC. Collaborating with UBC students allows us to strengthen the Academia-Community link. It also brings new ideas and fresh energy to SPEC. And although students are always quite busy, we really welcome the time and passion they share. And as a UBC graduate myself, I love the opportunity to get students connected with grassroots projects happening outside campus.
Q. How have the markets been going and what should we watch for next?
A. The market this year has been great! It was a wetter summer than last year but we are having roughly the same number of sales and visitors. The market is a great pace to support urban agriculture, local farmers, and very importantly, provide a community space for people to meet and access local and healthy food. We also have a coupon program that makes the market food more accessible to lower income community members. This seasons' last summer market is on September 15. But the good news is that we will host a smaller scale Fall Market, followed by Kits House's Autumn Fair on October 22, that will include a food market, and lastly the NEW Kits House – SPEC Winter Market on December 3, also featuring some of our summer market vendors.
If you have questions about SPEC or want to learn about volunteer opportunities, please visit their website http://www.spec.bc.ca/
Summer 2016: David Mcauley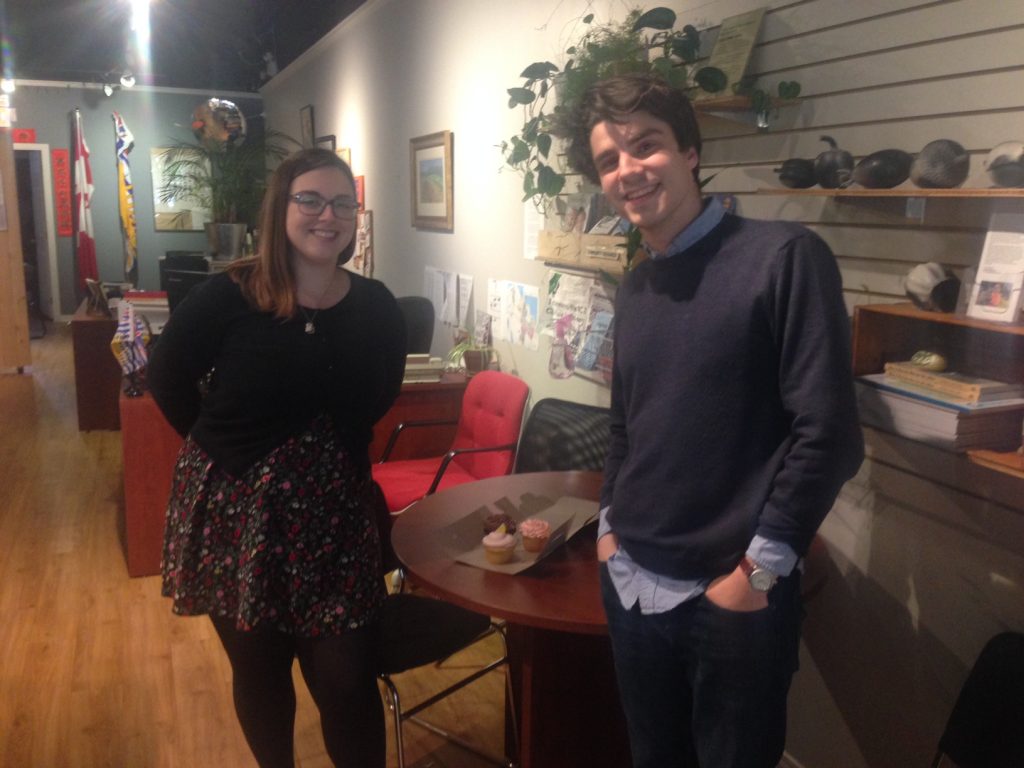 Our community office was lucky to have David Mcauley intern for a week through the BC Legislative Internship Program.
Q. What encouraged you to apply for the program? When I applied for the program in my final year of a History and Political Science degree at the University of Victoria, I only had some sense of what it would be like. I'd heard faint whisperings of political intrigue and late night research sessions in the basement of the Legislature, which was more than enough to prompt my application. While the whisperings were (mostly) untrue, the reality was far better than my already high expectations.
Q. What should someone expect going in to the program? The internship began in January and concludes at the end of June. Though mileage may vary, the program begins with a month assigned to a government Ministry. Among my top picks was the Climate Action Secretariat at the Ministry of Environment, and as luck would have it, they were as interested in having an intern as I was in being one.
The next phase of the program was a four month stint with either the Opposition or Government caucus. My time was spent with the Opposition, researching issues to canvass during the Estimates debate process. As each Opposition spokesperson questions the appropriate Minister on aspects of their Ministry and budget, my ears would perk up when a question I'd written would come up.
The final month of the program will be a an educational month, in which we'll host visiting student groups, a mock parliament, a mock trial, a breakfast with the Legislative press and a series of academic speakers.
Spattered throughout the six months was a series of short, educational trips: one week in Ottawa, two days in Olympia, and two constituency visits – for me, that was one to the Sunshine Coast and my second one here in Vancouver-Point Grey.
Q. Do you have any highlights from your time in VPG? I felt very fortunate to spend a week in VPG. The week included a stint as a restaurant patron in a Food Network TV-shoot at Deacon's Corner; designated photographer for a government press conference counter-announcement about Translink; learning about local residents and helping in the office. With encouragement from David's fantastic constituency assistants, I wore many hats, and the week had many surprises.
Q. Would you recommend the program? I would encourage any students nearing the end of their degrees to apply for the program. Selection for 2017 has already taken place, but applications for 2018 will be open next January.
Many thanks to David, Gala, Anna, Nadja, Sarah, and everyone else I met in my short time in Vancouver-Point Grey!
If you have questions about the BC Leg Intern Program or want to apply, check out their website: https://www.leg.bc.ca/content-peo/Pages/Legislative-Internship-Program.aspx
Spring 2016: Christina Gray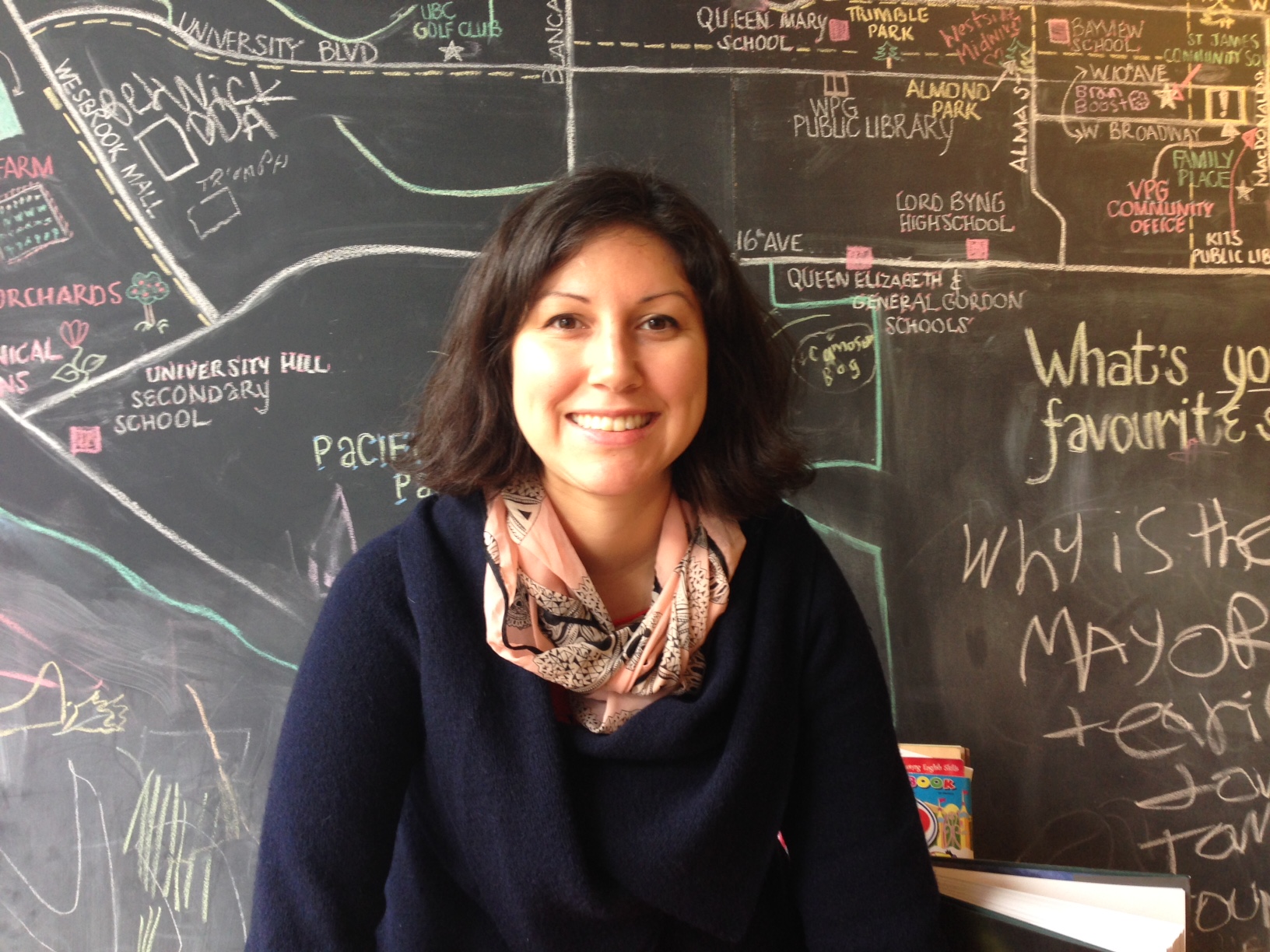 Christina Gray recently moved back to Kitsilano after practicing law in Toronto. She is a proud member of Lax Kw'alaams First Nation in Northern British Columbia, and is also Dene from Lutselk'e and Metis from the Northwest Territories. She recently started volunteering with David's office.
Q: What encouraged you to study law at UBC? A: I was inspired to apply to law school after I returned from doing an internship in Guatamala with a Mayan widow's association, which was in partnership with the BC Association of Aboriginal Friendship Centres. Seeing the injustices that exist for Mayans and drawing parallels with Indigenous people in Canada inspired me to attend UBC Law.
Q: What is your goal with your law degree? A: I want to make a positive difference in people's lives through the advocating through legal apparatus. 
Q: What brought you back to Kitsilano after living in Toronto? A: I came back after I did an internship in Uganda. After being so far away from home I wanted to be closer with my family back in BC.
Q: What's your favourite thing about VPG? A: The cherry blossoms, great food at Mamalee and Nuba, but also the beach! I love the community atmosphere in Kits. Even David's office, as it has a place to trade books, see what's happening in the community, and I think it stands out because the community has access to their MLA. All these things make Kits an awesome place to live.
Q: Where do you see yourself in 5 years? A: I was born and raised in Eastvan, and would like to stay here in the future but the way that housing prices are going, and competitive job market, I see it as difficult to afford to live here in 5 years – especially in Kitsilano. If Vancouver was more affordable, I'd love to stay here and help contribute to making it a better place to live through being part of the legal landscape, writing articles that affect British Columbians in local papers, and by being part of Indigenous, arts and cultural activities.
Winter 2015: Kari Rust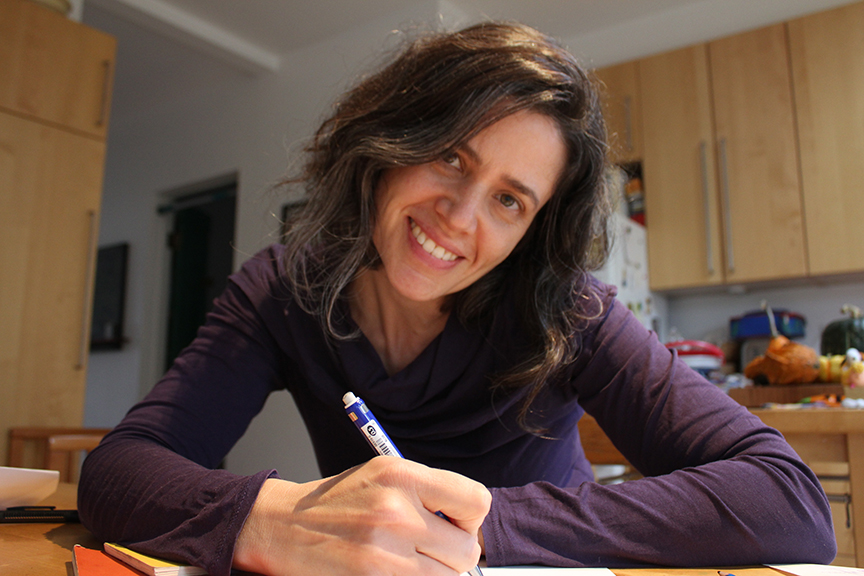 Our team was lucky to meet Kitsilano artist Kari Rust just after our office opened. We were even luckier when Kari agreed to illustrate a custom piece for us which now hangs above our office on Broadway for all our neighbours to see (photo below in newsletter).
Thanks Kari!
Q: What kickstarted your illustration career? A: My career actually started in animation. I was a classical animator and storyboard artist before I began working in computer animation so I had done a lot of drawing. After I had kids, it was difficult to work as an animator because the jobs are so demanding timewise. It was when my kids were small that I started to further explore illustration and "still" art (as I call it).
Q: What inspires your drawings? A: I'm inspired by the things I see around me especially children, animals and trees. Sometimes an action, an interaction, or something striking to look at calls for reproducing in a drawing.
Q: What's your favourite thing/place in Vancouver-Point Grey? A: I like the geography – that it's close to the ocean and close to the forests of the endowment lands. I also like the small businesses in our neighbourhood where you get to know the owners by name.
Q: What are you working on next? A: I'm working on some animated "book trailers" for a company called Rascal Media, and I'm developing a children's picture book.
Learn more about Kari's art!
September 2015: Doris Gregory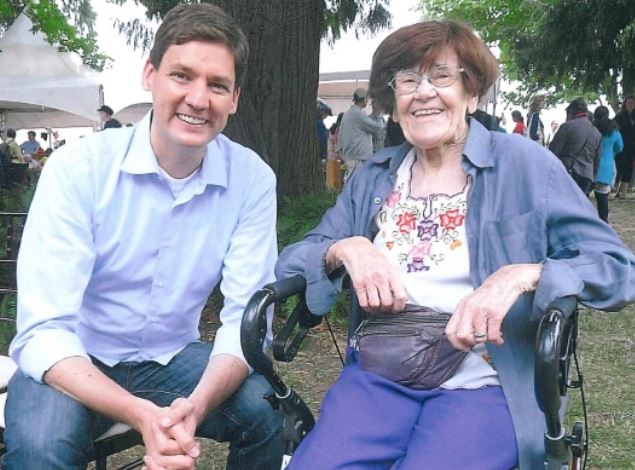 Author Doris Gregory and her publisher, Ron Hatch of Ronsdale Press, are both native Vancouverites, who grew up and now reside in this Westside area. Both graduated from Lord Byng High School, though in vastly different eras.  And both have past association with UBC.
Doris, one of the few survivors of the Canadian Women's Army Corps, always dreamed of writing a book about her UBC and overseas experiences, but only some time after her ninetieth birthday did she settle down to serious writing. The book finally had its highly successful launch at Brock House on the sixth of June, 2014, the seventieth anniversary of D-Day. Perfect timing, with resultant publicity in local newspapers and on national and local television.
Doris delights in talking about her book "to anyone who will listen." Because of it, she has met many fascinating people and made all sorts of interesting connections. In her own words: "I never expected to have so much fun at this time in my life!"
June 2015: Matthew Chan
Our office was lucky to have Matthew Chan intern with us for a week in May as part of his time in the BC Legislative Internship Program.
Q. Tell us a bit about yourself.
A: I was born and raised in Vancouver. I'm a recent graduate of McGill University in Montreal where I studied Political Science and Canadian Studies.
Q. Why did you apply for the BC Legislative Internship Program?
A. I heard about this great program through a friend who had done the internship previously. Every year the BC Legislature hires 10 recent graduates like myself to complete the 6 month paid internship. The interns gain experience working in the public service and can see first hand the workings of our legislature. Personally it has been a great practical learning experience. Sometimes I feel like I've learned more practical knowledge in the last 4 months than from 4 years at university!
Q. What is the best thing about working in Victoria?
A. Getting the chance to work alongside committed staff and MLAs from all across the province has been really rewarding. The interns are a valued resource at the legislature, and we are given the chance to do meaningful work. The dynamic nature of the workplace has been fun too. Tasks can change on a daily basis which means you get to learn about a variety of different topics.
Q. What will you take away from working in Vancouver-Point Grey?
A. I had a lovely week shadowing David Eby. Meeting with constituents in and out of the office on Broadway were highlights. It was very satisfying to see just how much David and his staff could do to advocate for residents of Vancouver-Point Grey. It was a pleasure to be immersed in such a beautiful and vibrant community, from UBC to Kits Beach and everything in between.
Q. You had a chance to work in the North Coast constituency office — what was the biggest difference between being up North vs. Vancouver?
A.  Travelling up to Haida Gwaii and Prince Rupert made me very aware of how vast our province really is. Prince Rupert and Kitsilano definitely feel like they are worlds apart. Being a city kid through and through, it was an eye-opener to hear about what issues are the most pressing in rural areas of our province, and a completely different set of issues than we face in urban areas. For example, the challenges of providing timely and reliable ambulance service was an issue that I grappled with up North, a service that we often take for granted in our cities.
Q. What's next for you?
A.  The internship takes me until the end of June. I'll be back around Vancouver for the summer and taking advantage of some off time to do some travel to Central America. Then, in September, I'm off to Kingston, Ontario to complete a Master's degree in Public Administration at Queen's University.
Thanks Matthew!
To learn more about the BC Legislative Internship Program visit their website.
March 2015: Michelle Tseng

Scientist by day, community-builder by night! Michelle has recently been elected President of the West Point Grey Community Centre (WPGCC) and we asked her a few questions:
Q. How long have you lived in Point Grey?
A: 9 years
Q. Why did you get involved at the WPGCC?
A. My kids and I have been attending programs run there for as long as we've lived in Vancouver. They both went to preschool there and we've made many friends and connections along the way. I started volunteering on the Board as a way to give back to the organization.
Q. What's your favourite thing(s) about Point Grey?
A. Our family is very fortunate to live within easy biking or walking distance to work, excellent schools, parks, shops and the beach. In the summer we love going for bike rides, picking salmonberries and huckleberries in Pacific Spirit park, and building sandcastles at Locarno beach.
Q. What's one dream you have for the neighbourhood?
A. I have many dreams! I'd love to see a new or expanded community centre. Aberthau is a wonderful heritage building but we're limited in the types of programs we can run there. I'd love to see a new space for the many community schools and programs that run out of Jericho Hill Centre on W. 4th. I would also love to see an expanded / updated library. Community centres and libraries should be the focal point of every neighbourhood. They're accessible to every social and economic background, they facilitate meaningful conversations and connections among neighbours, and thus they should be a priority when it comes to neighbourhood planning and sustainability.
Q. What's your secret skill?
A.  I don't have one! I've found that I've surrounded myself with very talented people. My peers and colleagues inspire me to be a good citizen, both at work and in the community. Plus I only have a few more years before I return to Naboo and I need to get as much earth-experience as I can to bring back to my leaders.
September 2014: YEA! and Maya Reisz
Maya Reisz leads Youth Evening of Arts, a youth orientated arts event showcasing art, music, and theater by youth for youth. A few of their members told us a bit about their group:
Q. What did YEA do last summer?
We took part in community postcards which was great for getting our name and ideas out. We held gatherings for youth and did some community art project planning.
Q. What is YEA most excited about for the fall?
The Kitshouse opening event on November 15th. This is when we unveil all of our hard work! Creating wonderful opportunities for youth to explore and execute their ideas and skills.
Q. What is YEA's connection to Dave Eby's office?
Is has been a space for YEA gatherings and events. The office has been a wonderful place to hold our meetings in and is really available for the community to use.
Q.  What secret advice would you like to share with the community?
"You are not alone." "Be creative!" "If you have any ideas you want to share and build it only takes a talk and a share to make it a reality."
Want to know more or get involved? Contact: youtharts@kitshouse.org
June 2014: Bryan LaRochelle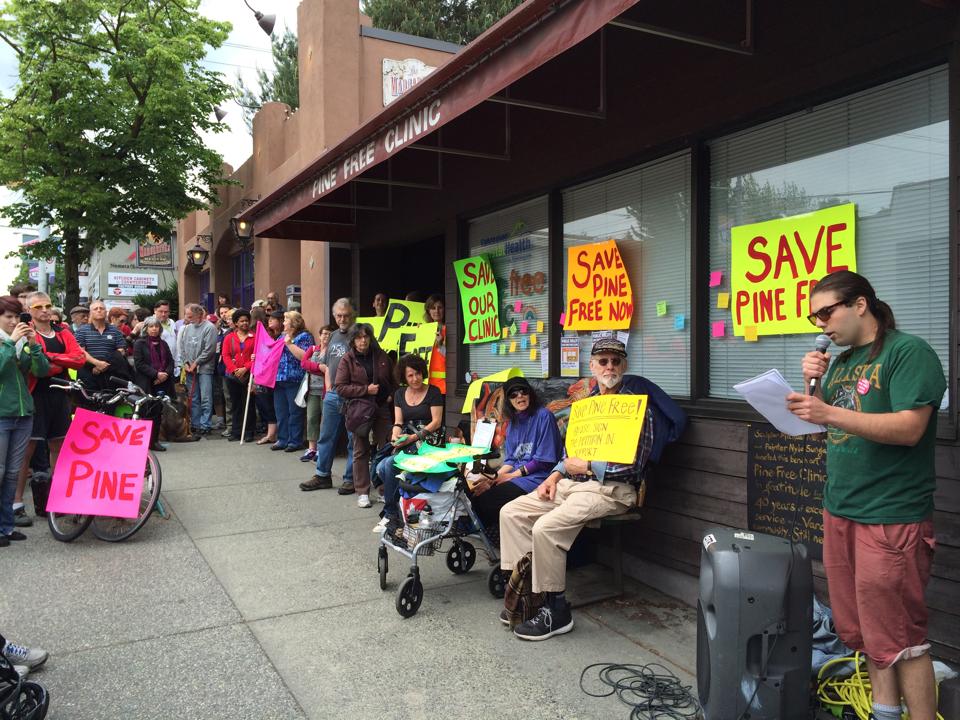 Bryan has been instrumental in the fight to Save the Pine Free Clinic. When he first heard of the clinic's closure, Bryan started a petition on change.org that now has over 1000 signatures. From there, Bryan has been vocal about the clinic's closure in the media, and was the key organizer in the Rally to Save Pine Free Clinic.
You can watch a video of Bryan speaking in support of the Pine Free Clinic on CTV here.
Thanks for all your hard work, Bryan.
April 2014: Kelly Douglas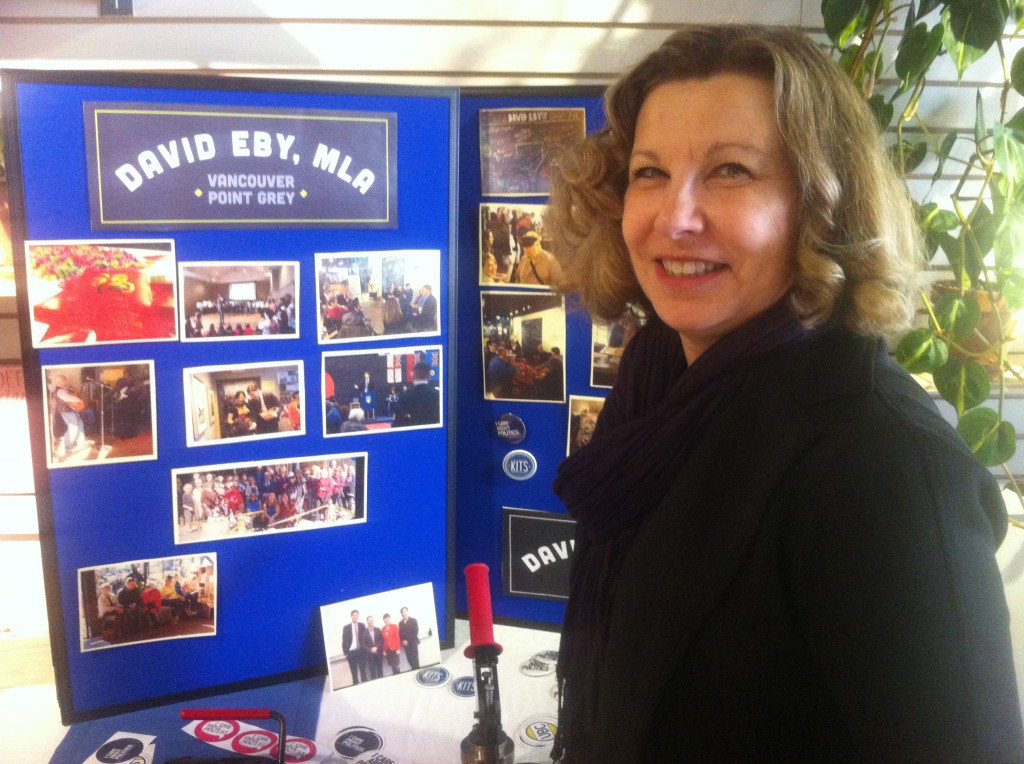 Kelly volunteers at the VPG office every Monday to do outreach and research.
Q: What's your favourite spot in Vancouver-Point Grey?
A:Jericho Beach. Especially around the area that has been restored. It's a great place to reflect on life.
Q: Why did you want to volunteer at the community office?
A: I have always had a great deal of respect for David and volunteered at Pivot Legal Society. I really like getting to know people and how they have contributed to the community, and reaching out to local businesses.
Q: What do you do when you're not volunteering here?
A: I work at BC 211 and am also a member of the outreach committee for Women Transforming Cities. I like to spend time with family and friends.
Q: What's the best thing about David's office?
A: The staff! (and David of course). It's warm and inclusive and welcoming.
Q: What's your secret skill?
A: I once refurbished a coffee table that I picked up at an antique store. I took some old radiator coils and put them under a glass top. My son loves it!