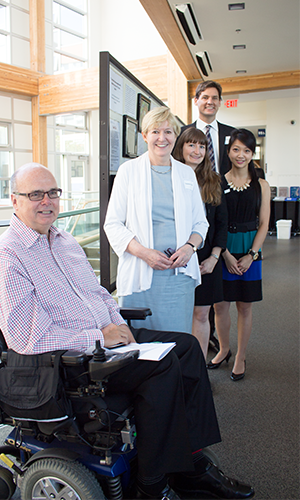 UBC Faculty of Medicine News, July 31, 2015
Quoted from the website:
For many students and faculty members, this year's conference was particularly special, as it drew support from B.C.'s Attorney General and Minister of Justice Suzanne Anton, MLA for Vancouver-Fraserview, as well as David Eby, MLA for Vancouver-Point Grey. Both attended to hear, first-hand, from students and gain a richer understanding of some of the unique research projects underway within the Department.
One of the many projects that caught Anton and Eby's eye was "Picture This," a photo exhibit exploring the lived experience of high-functioning stroke survivors.
For Eby, the photo exhibit was a powerful, and very personal experience.
"My father had a stroke and lived with a disability from stroke for a number of years before he passed away," reflects Eby. "The approach these students have taken with their research — having stroke survivors document their experience through photos — is very inspiring, as you really get to see the world through somebody else's eyes and see the challenges they face, as well as the positive things that are happening for them."
He adds: "The fact that these students reached out is very heartening — it shows they are interested in teaching others and exploring ways they can really help improve the experience for stroke survivors."
Read the full article here: http://www.med.ubc.ca/ubc-master-of-occupational-therapy-students-showcase-their-research-at-annual-capstone-conference/