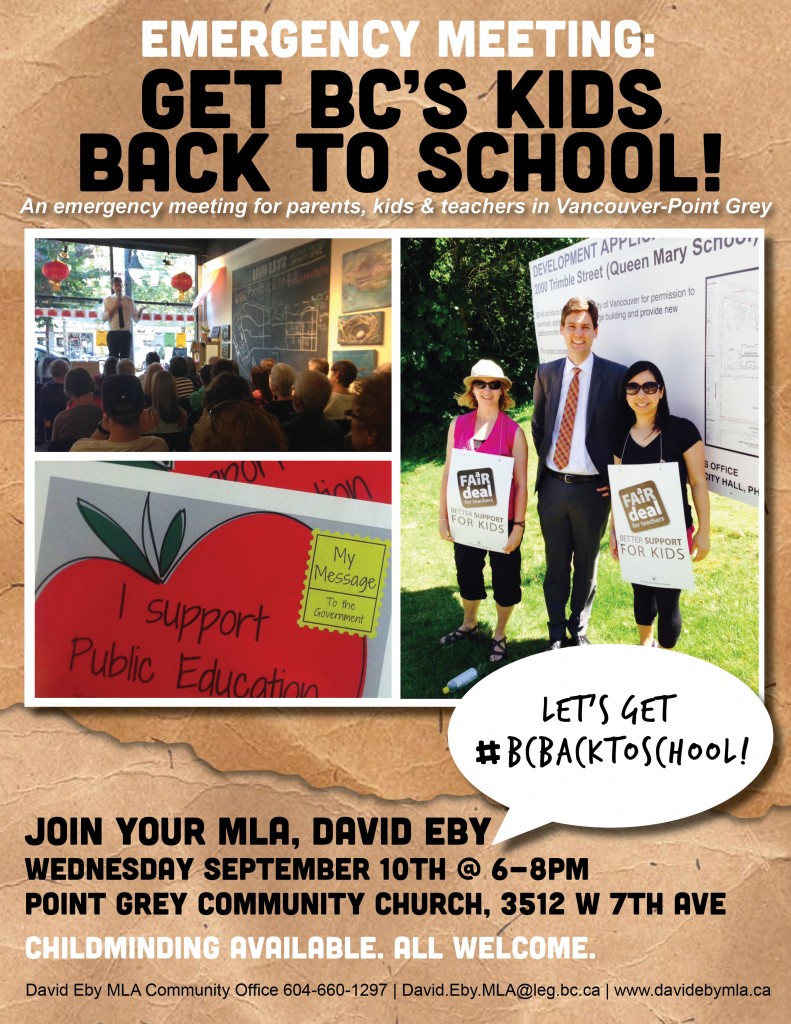 BC kids in public schools should have been back to school today, but they weren't. The ongoing crisis in our public school system is why I'm writing to invite you to an emergency meeting on September 10th.
Despite hearing from thousands of people in the province demanding that the government solve this dispute in time for school to start today, the teacher strike continues after a summer of inaction from Christy Clark, her government, and her Education Minister. This inaction can't continue – our children's future is at stake.
What: Emergency Meeting on the teacher strike.
Who: Parents, kids, teachers, and supporters of public education in Kitsilano, Point Grey and UBC / UNA / UEL are all invited (onsite childcare will be available).
Where: Point Grey Community Church, 3512 W 7th Ave
When: Wednesday, September 10th, 6:00 p.m.
Why: To demand the government negotiate an end to the teacher strike and invest in necessary supports for kids with higher needs; to share ideas about pressuring the government to support our public education system; and to give parents a chance to share information about free or low cost childcare solutions during the strike.
Despite the government's obvious failings to support public school students, this forum isn't about partisan politics – we will invite MLAs from all parties. I hope Liberal MLAs like Sam Sullivan, Suzanne Anton, Andrew Wilkinson and Peter Fassbender will attend to explain why their offices were closed to parents today who came out to meet with them to discuss the strike, and why their government is failing Vancouver's youngest citizens.
This meeting is about getting our kids back to school with the supports they need to be successful. It is about explaining to the government the importance of investing in our kids.   Investment in public education is our best investment in a strong economic future for BC. It's an investment in equal opportunity for every child, regardless of background, across the province.   If you've got a child in your house who has been affected by the strike or by government underfunding for gifted kids or kids with disabilities, we'd love to hear from them and from you. Please speak to your child about the possibility of addressing this public meeting – special space will be made for students to speak. Please note that we will also be inviting journalists, so media may be present.
I hope you can come out – it's critical we have a strong voice from parents, students, teachers and community members to support our public education system and adequate resources for kids' learning. I look forward to seeing you next Wednesday evening, September 10th at 6 p.m., and working with you to get our kids back to school with the supports they need.
Yours truly,
David Eby MLA, Vancouver Point Grey