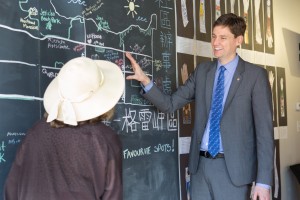 David Eby is a proud resident of Vancouver's Point Grey/UBC neighborhood.  He is the MLA for Vancouver-Point Grey, first elected in 2013. In 2017, David was re-elected to serve a second term in the B.C. Legislature and appointed Minister of Justice and Attorney General.
In his previous career David was an adjunct professor of law at the University of British Columbia, president of the HIV/AIDS Legal Network, and served on the Vancouver Foundation's Heath and Social Development Committee.  An award-winning human rights lawyer, he has been recognized as one of British Columbia's most effective advocates.  His work at Pivot Legal Society to protect the human rights and dignity of homeless and under-housed residents of Vancouver's Downtown Eastside was recognized in 2011 by the UN Association in Canada and the B.C. Human Rights Coalition with their annual award. He is the author of several books and articles on legal rights. His handbook on arrest rights is now in its third printing, with more than 10,000 copies in circulation.  David was the Executive Director of the B.C. Civil Liberties Association from 2009 to 2013.
David loves to ride his bike, practice yoga, and play music with his band.
If you wish to contact David please schedule an appointment by visiting our community office at 2909 West Broadway or contact him via email.