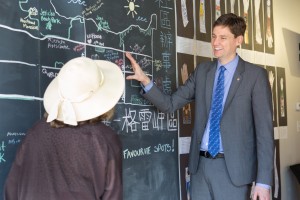 David Eby is the provincial government representative for the constituency of Vancouver-Point Grey. David also serves as the New Democrat Official Opposition spokesperson for Translink, Housing and Liquor Policy, B.C. Housing, B.C. Lottery Corporation, B.C. Pavilion Corporation, Destination B.C., and the Liquor Distribution Branch.
An award-winning human rights lawyer, David was the Executive Director of the B.C. Civil Liberties Association prior to his election in May of 2013. He has appeared at all levels of court in British Columbia, where he helped protect human rights, democratic rights, and the rights of the homeless and underhoused in Vancouver.
Currently, David works with Vancouver-Point Grey's residents and businesses every day, advocating for their interests locally and provincially. Visit the "Our Community" section of the website to learn more.
If you wish to contact David please visit our community office at 2909 West Broadway or contact him via email.